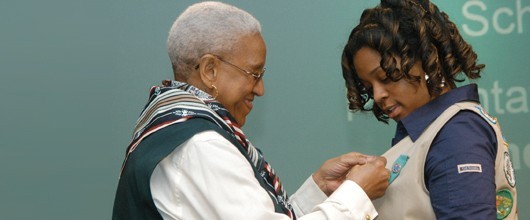 Employment Opportunities
​It's an exciting time to be at Girl Scouts of Southern Arizona and we hope that you'll help us spread the word that our team is growing.
Maybe you only think about Girl Scouts once a year while munching delicious cookies. Maybe you never thought about the impact of the organization for girls and women, and for our society... you're invited to take 60 seconds to enjoy this quick video to give you a new perspective.
Before she's spacewalking, using her voice for change, conquering that Grand Slam, or winning Grammys, she's a Girl Scout. Our Girl Scouts imagine solutions and chase innovation where others see only challenges. As they explore their big ideas with freedom and flexibility, we motivate them to build on their visions and accomplish what they set out to. Girl Scouts develop the confidence to consistently step forward, defy norms, and turn ideas into action. They start by making new friends, speaking up, spreading kindness, and solving problems in their communities. Then they go on to push boundaries and change the world through their actions, both big and small. What's not to love about that, right?
So, what's it like to work at Girl Scouts?
Self-Expression
Community
Inclusion
Integrity
Discovery
At Girl Scouts, these are our values and they have been for almost 110 years. We strive to live these values as Girl Scouts ourselves, and as team mates in the workplace. We are deliberate and self-reflective in our ongoing DEIASJ work.
We are seeking team members that are strong in their own aptitudes but care deeply about supporting each other's growth. Diversity not only includes race and gender identity, but also, age, disability status, veteran status, sexual orientation, religion and many other parts of one's identity. All of our employee's points of view are key to our success and inclusion is everyone's responsibility.
Our benefits include competitive salary, robust PTO allocation, week long paid winter break, paid time for community volunteerism, retirement plan match, medical, dental and vision insurance, STD/LTD insurance, paid parental leave. Lastly, we work hard, but you won't believe how much fun it is!
Pima

Cochise/Graham/Greenlee

Santa Cruz

Yuma

You have the power to change a Girl Scout's life. Share your talents with us to help build youth of courage, confidence, and character who make the world a better place!
To apply for our full or part-time positions, fill out an application or email Timalee Nevels!