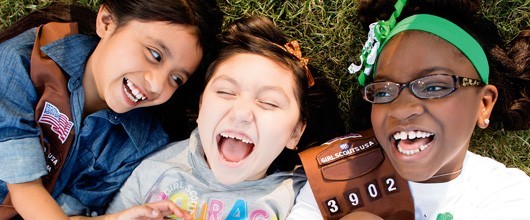 Become a Girl Scout
At Girl Scouts, the next opportunity to stand up, speak up, and take the lead is never far away. With us, you'll discover the G.I.R.L. (Go-getter, Innovator, Risk-Taker, Leader) in you, and watch her shine, again and again.
Will you find a sustainable solution to a problem in your community? Will you explore the great outdoors? Build a robot? Learn to code? Conduct an experiment?
With us, the possibilities are truly endless. Discover all you can be and everything you can accomplish when you have the right tools and a safe space to shine—and work together to change the world.
How to Join Girl Scouts:

Click the "Girl Registration" button below to visit our registration site and tell us a bit about yourself.

Enter your zip code to find nearby troops, and choose one that will work best for your family!

Complete the process by becoming a member of Girl Scouts. You will pay $25 in member dues, and there is financial aid available.
Already a member? Log in to renew.
Need to know more to help you decide what's right for you? Check out all the different ways to have fun at Girl Scouts and read more about what our members are saying. Or, see all the exciting possibilities Girl Scouts offers for girls of all ages and choose your adventure. 

Interested in becoming a volunteer?