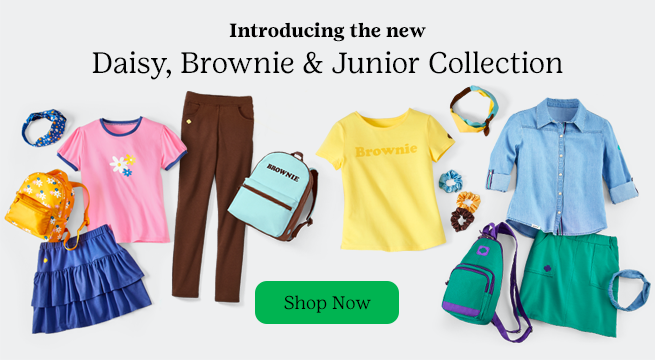 Shop
We're stocked with sashes, badges, Girl Guides, Starter Kits, accessories and everything else you need to get you on your Girl Scouting way! When you shop at one of our Council locations, your purchase always supports local girls and programming. You may shop online or visit one of our several locations.
TUCSON
4330 E Broadway Blvd. | Tucson, AZ | 520-319-3145
Wednesday, Thursday, Friday 11:00am – 7:00pm 
Summer hours June 2nd – August 1st. Closed Saturday – Tuesday.
---
SIERRA VISTA
2367 E Fry Blvd. | Sierra Vista, AZ | 520.319.3191
Tuesday and Thursday 11:00am – 5:00pm
Wednesday 9:00am - 12:00pm
Closed the last Tuesday of every month
---
YUMA
1950 W 3rd Street | Yuma, AZ | 928-782-9193 | 928-782-1599
Tuesday 2:00pm-5:00pm
Wednesday 1:00pm-6:00pm
Closed the last Tuesday of every month
Call 928-782-9193 within 24-48 hours to schedule an appointment.



If your troop is in need of uniforms or materials please fill out the Shop Registry Form and we can help you get everything you need!
Upcoming Dates that the Shop Will Be Closed:
Thanksgiving - November 23rd -26th.
Holiday Break - December 23rd - January 2nd. 
Ordering from the Council Retail Shop
Pins, badges, uniforms, books & specialty items are available by mail, phone or FAX. Please note it is GSUSA's policy that only leaders and co-leaders may purchase earned pins and badges.
Place orders here: shoporders@girlscoutssoaz.org 

We accept Visa, MasterCard and Discover as well as checks and money orders made payable to Girl Scouts of Southern Arizona. Please do not leave credit card numbers on the voice mail system or include in an e-mail inquiry or order.
For Mail Order, please send to:
Girl Scouts of Southern Arizona Council Retail Shop
4300 E. Broadway Blvd.
Tucson, Arizona 85711
You may also submit orders by phone at (520) 319-3145 or 1-800-331-6782 ext. 3145 or by fax at (520) 795-3318.
For more information contact Shop Manager Mary Wood or call 520.319.3162.
Need help with insignia placement or how to wear the uniform? Check out this visual guide for all levels.