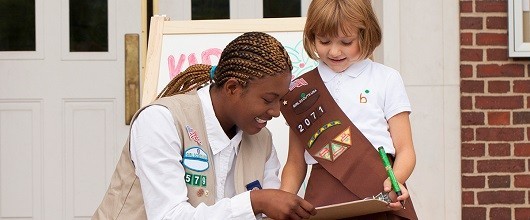 Governance
"The ultimate responsibility for the Girl Scout Movement rests with its members."  - Preamble to the Girl Scouts Constitution
Girl Scouts of Southern Arizona is governed by a volunteer Board of Directors composed of women and men who believe in the value of Girl Scouting. Together, we...
Ensure the mission and values of Girl Scouting
Provide strategic direction and leadership for the council
Provide care, custody, and oversight of Girl Scouting within our council's jurisdiction
These governance volunteers represent our membership and reflect its diversity, including geographic, racial/ethnic, gender, age and socio-economic. Board members are elected by the full Delegate Body.
Our board members can be contacted at 520.444.3587 or board@girlscoutssoaz.org, or by mail at: GSSoAZ- Board Chair, 4300 E. Broadway Blvd. Tucson, Arizona 85711


Board Chair
Susan Armstrong
BeachFleischman PC
Treasurer
Ellen Howlett
Retired
Member at Large Representative
Pamela Traficanti
Visit Tucson

Vice Chair
Gloria Tileston-Tharp
Tucson Electric Power
Secretary
Sheila Kressler-Crowley
University of Arizona, Norton School Family and Consumer Sciences
Melissa Lopez
Tucson Federal Credit Union
Kimberly A. Bowie
Tucson Electric Power
Diane Culin
Santa Cruz Superior Court 
Terry Flores
Options + Resolutions
Maggie Shafer
College of Education, University of Arizona
Stephanie Chavez
Pima County Juvenile Court, Special Advocate Program
Pat Wiedhopf 
Pima County Attorneys Office
Melissa Arroyo
Tucson Medical Center
Allison Duffy
Silverado Technologies 
Kellie Johnson
Pima County Superior Court
Joseph S. Peterson
Raytheon Missile Systems
Nanette Warner
Karp Weiss 
Sydney Loudermilk
Girl Board Director
Sophia Smith Gatto
Girl Board Director
Bailey Williams
Girl Director
Garvey Blackwell
Girl Director
Annual Reports

Audited Financials

Apply to be a Girl Representative

Are you ready for an exciting new step in your leadership journey?

We are accepting applications for girl representatives on the Board of Directors for Girl Scouts of Southern Arizona.  It's a great time to step into this leadership role.  Now more than ever, we need your voice as move into the future of Girl Scouting.  We seek to engage all perspectives as we do the work to propel Girl Scouts into a new era.  You can lend the power of the girl voice to the dialogue, the learning and the planning.  It's time for you to shine!  Closed for the 2020-2021 year! 

What you should know:

Girl Directors are non-voting members of the Board, but fully participate in meetings, strategy sessions etc.
The Board meets monthly from 5-6pm on most months of the year at our offices in Tucson. (Zoom platform is currently being used due to the pandemic and once we return to meeting in person for those who live out of area)
Registered Girl Scouts must be 14+ to apply
Children of staff members not eligible for this opportunity

Application process includes:

Application
Interview with CEO and the Board Development Committee

What you'll gain:

Networking contacts with other Board members
Community engagement opportunities
A wonderful experience to add to your resume and college applications
You will gain knowledge about leadership, non-profit organizations, speaking skills and more!

If you're interested, please complete the application here.

If you have questions, please contact tnevels@girlscoutssoaz.org  

Bylaws

Our Charter
Girl Scouts of Southern Arizona is one of more than 100 councils chartered by Girl Scouts of the USA for the purpose of bringing the Girl Scout program to all girls ages five through 17 years. Girl Scouts of Southern Arizona serves all of Pima, Cochise, Greenlee, Yuma and Santa Cruz Counties, and southern parts of Graham, Maricopa and Pinal Counties.